Annual reports
Annual reports are a key accountability document and the principal way the NIISQ Agency reports on non-financial and financial performance.
The National Injury Insurance Agency, Queensland (NIISQ Agency) reports to the State Parliament through the Treasurer and prepares an annual report, as required by the National Injury Insurance Scheme (Queensland) Act 2016 and the Financial Accountability Act 2009.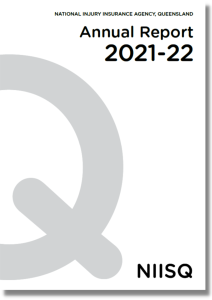 Online ISSN: 2208-1038
Compliance Checklist
The compliance checklist is located within the 2020-21 annual report and outlines the governance, performance, reporting and other specific requirements.
Viewing and printing PDF files
Adobe Reader is required to open and print Portable Document Format (PDF) files and is free to download from the Adobe website.
If you experience any difficulties with accessing PDF files on this website, please refer to our PDF help page.
Contact us
If you have any enquiries regarding the annual report, including making a request for a printed copy, please email enquiries@niis.qld.gov.au.
DISCLAIMER The materials presented on this site are provided by the NIISQ Agency for information purposes only. Users should note that the electronic versions of the annual report on this site are not recognised as the official or authorised version. The official copy of the annual report, as tabled in the Legislative Assembly of Queensland can be accessed from the Queensland Parliament's tabled papers website database.
Previous NIISQ Agency annual reports
Last updated: January 2023