Reflections of the UNCRPD art exhibition
December 6, 2022
Recently, the NIISQ Agency and the Motor Accident Insurance Commission, together with renowned Wiradjuri artist and disability business Elder Uncle Paul Calcott and the NuunaRon art group, proudly presented the Reflections of the UNCRPD art exhibition in the foyer of 1 William Street, Brisbane. We also held an afternoon tea in recognition of International Day of People with Disabilities (3 December), and to celebrate this internationally recognised exhibit.
The United Nations Convention on the Rights of Persons with Disabilities (UNCRPD) follows decades of work by the United Nations to change attitudes and approaches to persons with disabilities. Articles cover a range of topics including accessibility, access to justice, respect for privacy, and personal mobility. You can read more about the UNCRPD articles here – Convention on the Rights of Persons with Disabilities – Articles | United Nations Enable.
Reflections of the UNCRPD is a collection of stories of strength and resilience from individual perspectives and the personal resilience of each NuunaRon artist. Each piece reflects how certain articles of the UNCRPD support these stories.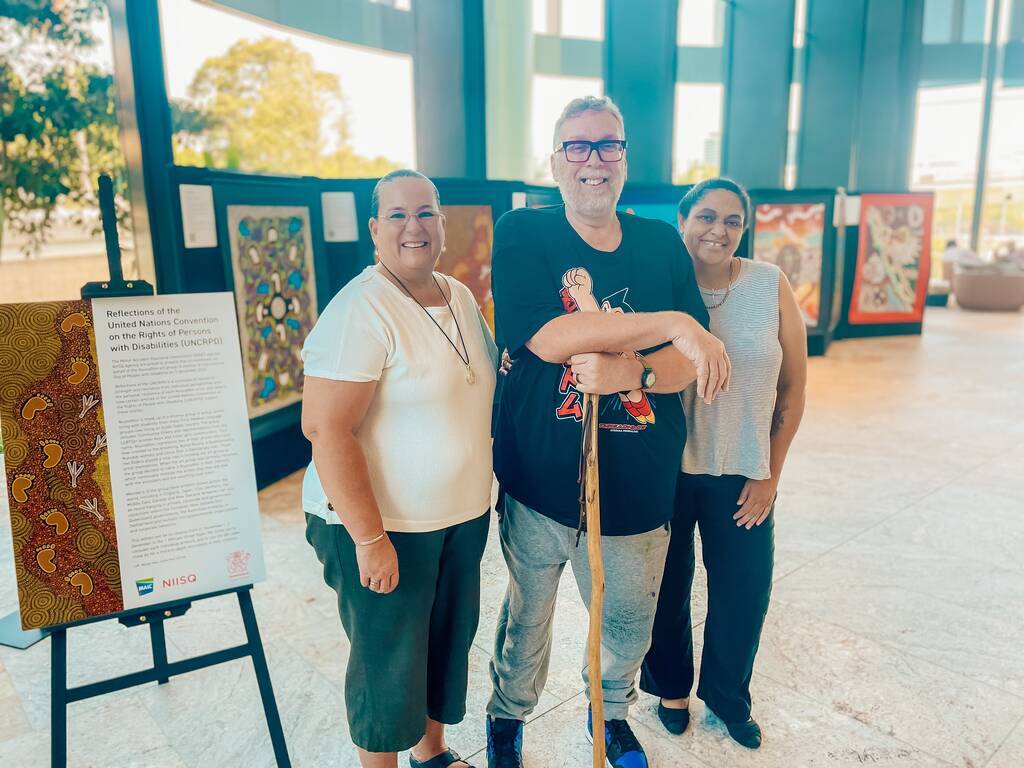 NuunaRon is made up of a diverse group of proud artists living with disability from many First Peoples language groups now living on Gubbi Gubbi country. The group includes Community Elders and representations from the LGBTIQ+ brother boys and sister girls communities.
Members of the group have artwork shown across the world, including in England, Japan, USA, Germany, the Middle East, Canada and New Zealand. Artworks can also be found hanging in private, corporate and government collections within the Canadian, New Zealand and Queensland governments, the Australian embassy in Switzerland and multiple non-governmental organisations and corporate networks.
You can learn more about one of the pieces, Inclusion (Mungo Man), by Uncle Paul Calcott, by watching the video below.
Last updated: February 2023